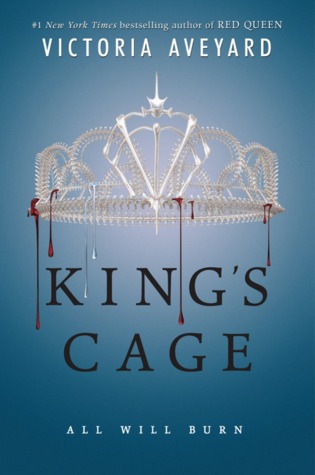 Publisher:
Hachette
Release Date:
February 7th 2017
Source:
From the Publisher!
Purchase:
Mighty Ape
/
Paperplus
In this breathless third installment to Victoria Aveyard's bestselling Red Queen series, allegiances are tested on every side. And when the Lightning Girl's spark is gone, who will light the way for the rebellion?

Mare Barrow is a prisoner, powerless without her lightning, tormented by her lethal mistakes. She lives at the mercy of a boy she once loved, a boy made of lies and betrayal. Now a king, Maven Calore continues weaving his dead mother's web in an attempt to maintain control over his country—and his prisoner.

As Mare bears the weight of Silent Stone in the palace, her once-ragtag band of newbloods and Reds continue organizing, training, and expanding. They prepare for war, no longer able to linger in the shadows. And Cal, the exiled prince with his own claim on Mare's heart, will stop at nothing to bring her back.

When blood turns on blood, and ability on ability, there may be no one left to put out the fire—leaving Norta as Mare knows it to burn all the way down.
Hmmm. Conflicted emotions here. On on hand I quite enjoyed it: the plot twists and action scenes were exciting and kept me hooked but the rest of the book dragged on and on and ON. The book is huge and well over 500 pages and there were so many parts of the book that I thought could've been chopped out as they just weren't needed and were incredibly boring to read. I feel like if 100 pages or so had been cut out, the whole book would've had a faster pace and just MOVED quicker.
I really enjoyed seeing all the character seem to show their actual colours. By the end of KING'S CAGE, you know who is really bad and who's good which was incredibly satisfying to see some of the bad guys change their minds but also really exciting to see where this will lead in the fourth and last book coming out next year.
I wished the multiple POVs had been handled better. I didn't mind Mare's who's chapters took up about 90% of the book, couldn't see the point at all of Cameron's chapters and absolutely ADORED Evangeline. Frustratingly, Evangeline only had probably 3 chapters in the whole book and I would've loved to see at least half the book narrated by her instead.
::Thank you HACHETTE for the review copy!::
Publisher:
Walker Books AU
Release Date:
October 6th 2016
Source:
From the Publisher!
Purchase:
Paperplus
When Brooks volunteered to be a stand-in for Burdette's cousin who got stood up for Homecoming, it was with the noblest of intentions-helping a fellow human being, free of charge. But when he gets a tip of more than three hundred bucks, word spreads quickly and Brooks seizes the opportunity to offer his impeccable escort services to super-wealthy parents who want their daughters to experience those big social events of senior year.

Besides, Brooks could use the cash to hire a tutor to get admitted to Columbia University. So what if along the way he goes along with a few minor deceptions and cuts a few moral corners? What could be the harm?
I couldn't stand the amount of sexism that this book portrays. Brooks the main character is
so
sexist. The other characters are sexist. There's girl-on-girl hate which I can't stand. The whole book makes out that no girl could
possibly
be able to go to prom without a date because it's obviously such a shameful and dirty thing to go by yourself, a friend or a group of friends. This is SUCH a wrong message to portray, especially to teenage girls and I was so mad by the end of the book.
The biggest thing I disliked after the sexism, was Brooks. Besides being sexist, he was incredibly unlikeable, had such a low opinion on girls that I couldn't stand and complained about how unlucky he was during the whole book, when obviously he wasn't.
This book was not for me. Even though it's quite a short book and I read it in just a couple of hours, reading it was painful. What this book turned out to be like was the complete opposite of what I expected and not for the better.
::Thank you WALKER BOOKS AU for the review copy!::
Publisher:
Walker Books AU
Release Date:
September 1st 2016
Source:
From the Publisher!
Purchase:
Mighty Ape
/
Paperplus
"This is the Affinity Project - where freewill is turned to ash."
Evie is out of options. She must comply with the Affinity Project – obey their rules, play their deadly games, give up Jamie. And her losses keep growing...

When she decides to help a small group of Shields trying to affect change, Evie finds herself in the firing line. Counsellor Knox is intent on revealing her secrets and shackling her to the Affinity Project for life. To protect her family, Evie must betray those closest to her.

The odds of success – let alone survival – are slim.

The final thrilling conclusion to the Spark series.
I feel so emotional!! I can't believe the SPARK trilogy - a series I've been following since the first book came out - is finally finished. NOOO! I'm still in denial.
For all my fears that I had before finally reading SHIELD, none of them actually came true, THANK GOD. After the traumatic ending of STRAY, the second book in the trilogy, and the awful cliffhanger that followed, I was was terrified that SHIELD would kill all my favourite characters and just be a general bucket of sadness and tragedy.
THANKFULLY THOUGH, IT WAS NOT!!! Oh, thank the bookish gods.I pretty much adored everything about the book except the ending. Part of it is my own fault - the whole time I was reading I was hoping for a happily-ever-after-everything-is-happy-and pink-confetti-is-raining-down-everywhere-with-angels-strumming-harps-and-singing-joyfully-in-the-background...okay, maybe I had unrealistic hopes that were of course not going to happen! But I still would've liked more things to be tied up as it ended on a bit of a cliff-hanger/open ending.
::Thank you WALKER BOOKS AU for the review copy!::
Publisher:
Allen & Unwin
Release Date:
November 1st 2016
Source:
From the Publisher!
Purchase:
Mighty Ape
/
Paperplus
The sci-fi saga that began with the breakout bestseller Illuminae continues on board the Jump Station Heimdall, where two new characters will confront the next wave of the BeiTech assault.

Hanna is the station captain's pampered daughter; Nik the reluctant member of a notorious crime family. But while the pair are struggling with the realities of life aboard the galaxy's most boring space station, little do they know that Kady Grant and the Hypatia are headed right toward Heimdall, carrying news of the Kerenza invasion.

When an elite BeiTech strike team invades the station, Hanna and Nik are thrown together to defend their home. But alien predators are picking off the station residents one by one, and a malfunction in the station's wormhole means the space-time continuum might be ripped in two before dinner. Soon Hanna and Nik aren't just fighting for their own survival; the fate of everyone on the Hypatia—and possibly the known universe—is in their hands. But relax. They've totally got this. They hope.
AHHHHHHHHH. SO! MANY! FEEEEEELSSS!!!! I was nervous before reading GEMINA as I had no idea if it would be anywhere near as good as ILLUMINAE or even good at all! I'm happy to say though, GEMINA punches right above the belt and is up there with ILLUMINAE with how much I loved it.
I adored EVERYTHING about this book! Everything about it from the style it's presented in, the writing, the characters, THE PLOT...oh my god everything is absolute PERFECTION.
Although I still love ILLUMINAE more, I loved how GEMINA followed the same style as ILLUMINAE did but also tried to set itself apart as well. Marie Lu's illustrations were absolutely fantastic and I loved how they tied into the book so well!!
I AM SO EXCITED FOR THE 3RD BOOK!!!
::Thank you ALLEN AND UNWIN NZ for the review copy!::
HAVE YOU READ ANY OF THESE BOOKS?!