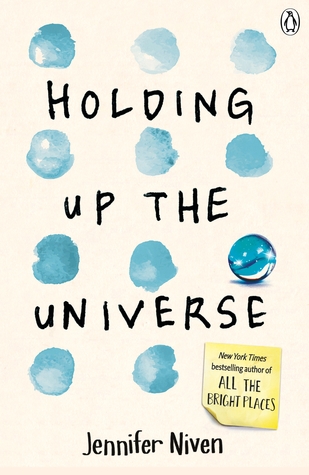 Publisher:
Penguin NZ
Release Date:
October 4th 2016
Source:
From the Publisher!
Purchase:
Mighty Ape
/
Book Depository
/
Amazon
Read it in: 3 hours
Word Rating: CURIOUS.
Everyone thinks they know Libby Strout, the girl once dubbed 'America's Fattest Teen'. But no one's taken the time to look past her weight to get to see who she really is. Since her mum's death, she's been picking up the pieces in the privacy of her home, dealing with her heartbroken father and her own grief. Now, Libby's ready: for high school, for new friends, for love, and for EVERY POSSIBILITY LIFE HAS TO OFFER. I know the part I want to play here at MVB High. I want to be the girl who can do anything.

Everyone thinks they know Jack Masselin too. Yes, he's got swagger, but he's also mastered the art of fitting in. What no one knows is that Jack has a secret: he can't recognize faces. Even his own brothers are strangers to him. He's the guy who can re-engineer and rebuild anything, but he can't understand what's going on with the inner workings of his own brain. So he tells himself to play it cool: Be charming. Be hilarious. Don't get too close to anyone.

Until he meets Libby. When the two get tangled up in a cruel high school game which lands them in group counseling, Libby and Jack are both angry, and then surprised. Because the more time they spend together, the less alone they feel. Because sometimes when you meet someone, it changes the world - theirs and yours.
I'm really pleased that I gave Jennifer Niven's books another chance.
Having DNFed Jennifer Niven's first book, ALL THE BRIGHT PLACES last year, I was really nervous going into HOLDING UP THE UNIVERSE. I'm so glad I did because for the most part, I really liked it.
DIVERSITY.
I thought Jennifer Niven wrote it really well, and it made what could've been an average YA contemporary into something that really raised awareness of things that need more awareness around them.
I found Libby a super refreshing main character!
The difficulties that she's had to get through and her determination to have the best life she can possibly have and to follow every one of her dreams regardless of the fact that some people will be horrible to her was extremely inspiring.
I definitely wasn't a big fan of Jack.
A lot of reviews of HOLDING UP THE UNIVERSE I've read have seen people loving Jack but not Libby. I was the complete opposite. I adored Libby but couldn't stand Jack.
THAT ENDING!
People, you know by now that I like my book endings tied up in a rational way and not thrown to the wind and remain a mystery. I got to the last page in HOLDING UP THE UNIVERSE without realizing it was the last page and upon realizing it, felt like throwing the book across the room.
::Thank you PENGUIN NZ for the review copy!::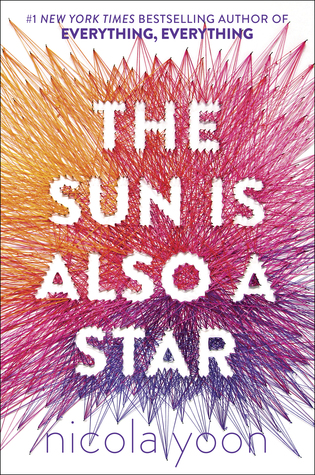 Publisher:
Penguin NZ
Release Date:
October 31st 2016
Source:
From the Publisher!
Purchase:
Mighty Ape
/
Book Depository
/
Amazon
Read it in: 21/2 hours
Word Rating: CONFUSING.
Natasha: I'm a girl who believes in science and facts. Not fate. Not destiny. Or dreams that will never come true. I'm definitely not the kind of girl who meets a cute boy on a crowded New York City street and falls in love with him. Not when my family is twelve hours away from being deported to Jamaica. Falling in love with him won't be my story.

Daniel: I've always been the good son, the good student, living up to my parents' high expectations. Never the poet. Or the dreamer. But when I see her, I forget about all that. Something about Natasha makes me think that fate has something much more extraordinary in store—for both of us.

The Universe: Every moment in our lives has brought us to this single moment. A million futures lie before us. Which one will come true?
The writing is beautiful!
Nicola Yoon has magic writing blood I think, because regardless if you enjoy her books or not, you have to admit her writing sparkles.
I LOVED the diversity.
It was really refreshing to actually read a book and be able to say that it was chockfull of diversity. I think YA fiction is getting better in providing more diversity in their books but it's definitely still not enough. The fact that this is also set in America and American YA books are normally (not always but normally) EXTREMELY white with little to no diversity at all made THE SUN IS ALSO A STAR really stand out in a good way.
It's a really quick read!
I whizzed through this in just a couple of hours and it honestly felt like no time had passed at all.
I found it really insta-lovey.
However,
I think you can see the romance from two different ways. If you are a person that believes in fate, and that if certain things happen at certain times in certain circumstances and you consider that that must've been fate, not a coincidence or good/bad luck, you will enjoy this book. Because I would like to believe that everything that happens is fate and was meant to happen, ultimately I don't, I really struggled with the romance in here.
Yes, the writing is beautiful, but I think you can appreciate that someone's writing is beautiful and still not enjoy it.
I
liked
the writing in here, but by the end of the book I'd definitely had enough of it's floaty dreamy style that just didn't 100% click with me.
I actually would've given THE SUN IS ALSO A STAR a 3-star rating if not for the incredibly rushed and (in my eyes) unbelievable ending.
Again, if you're a big believer in fate, and things like that, you will probably enjoy the aspect of the ending, but for myself it didn't work.
Even though I myself didn't love THE SUN IS ALSO A STAR, I know a lot of people that did and I know a lot of people will!
I actually personally don't think there's anything bad about this book, it just comes down to the fact that it didn't suit my personal reading tastes.
::Thank you PENGUIN NZ for the review copy!::

Actual rating 2.5 stars!
HAVE YOU READ EITHER OF THESE TWO BOOKS?? OF THE TWO WHICH WAS YOUR FAVOURITE?? AND ALSO: WHICH ONE IS YOUR FAVOURITE COVER?? (MINE'S THE SUN IS ALSO A STAR!!)