At last! I have finally read THE ORPHAN QUEEN!
I've wanted to read it for so long, ever since I was hooked by the lovely cover and equally promising sounding premise. But while I enjoyed the majority of what THE ORPHAN QUEEN held and it wasn't an unpleasant reading experience, I have to say, the problems and grumbles I had while reading it definitely out factored the good things about it at times.
The biggest problem I found with THE ORPHAN QUEEN was that it fell all to close to the lines of 'generic' and not enough to 'new and interesting take on a princess trying to take back her kingdom'.
While being generic isn't neccearily bad, I found it definitely lessened my enjoyment of the book when I was guessing everything that was going to happen before it happened.
The cast of characters in THE ORPHAN QUEEN is wide and varied but I felt like the only characters we really got to know was the main character, Wil, and Prince Tobiah.
Side characters, not just including Melanie, James and Meredith, stick their heads in here and there, but the focus was so strong on Wil and Tobiah that everyone else kind of faded into the background and by the end of the book I didn't feel like I really knew anyone, besides Tobiah and Wil much better then when I first started the book.
This wouldn't have been as much of a problem however if I'd enjoyed Wil and Tobiah's characters.
Unfortunately, for me, while I
liked
Wil, she felt a little flat and by the end of THE ORPHAN QUEEN I still didn't really feel I
knew
her. This is the same for Tobiah; I couldn't stand him during most of the novel and by the end of the book while my feelings towards him had softened a little, I still wasn't impressed with his character.
But if the story was a little generic and the characters a little flat, where those factors are disappointing, Jodi Meadows blows you away with absolutely excellent writing.
When at times I was disappointed in the story or annoyed by the characters, Jodi Meadows' writing kept me suckered to the page completely and I couldn't pull myself away!
The thing that really saves THE ORPHAN QUEEN from merging with so many other generic YA fantasies about lost royals struggling to take back their thrones is THE ENDING.
Ahhhh! That ending is one of the best, most bloody, most desperate, most absolute killer of a cliffhanger of an ending I have
ever
read. This is strange, as I'm a reader that cannot stand cliffhangers and normally takes off a star from the end rating of the book for them. But
the ending of THE ORPHAN QUEEN is written so well, is so breathless, heart-stopping and utterly electrifying, that it transforms the book from 'average' to 'brilliant' in the space of a few pages.
::THANK YOU HARPER COLLINS FOR THE REVIEW COPY!::
Publisher:
Harper Collins
Release Date:
April 5th 2016
Source:
From the Publisher!
Purchase:
Mighty Ape
/
Book Depository
/
Amazon
Read it in: 4 1/2 hours
Word Rating: REASONABLE
Wilhelmina has a hundred identities.



She is a princess. When the Indigo Kingdom conquered her homeland, Wilhelmina and other orphaned children of nobility were taken to Skyvale, the Indigo Kingdom's capital. Ten years later, they are the Ospreys, experts at stealth and theft. With them, Wilhelmina means to take back her throne.

She is a spy. Wil and her best friend, Melanie, infiltrate Skyvale Palace to study their foes. They assume the identities of nobles from a wraith-fallen kingdom, but enemies fill the palace, and Melanie's behavior grows suspicious. With Osprey missions becoming increasingly dangerous and their leader more unstable, Wil can't trust anyone.

She is a threat. Wraith is the toxic by-product of magic, and for a century using magic has been forbidden. Still the wraith pours across the continent, reshaping the land and animals into fresh horrors. Soon it will reach the Indigo Kingdom. Wilhelmina's magic might be the key to stopping the wraith, but if the vigilante Black Knife discovers Wil's magic, she will vanish like all the others.



Jodi Meadows introduces a vivid new fantasy full of intrigue, romance, dangerous magic, and one girl's battle to reclaim her place in the world.
First things first: I am so glad I had THE MIRROR KING on hand to read right after I finished THE ORPHAN QUEEN!
The ending of THE ORPHAN QUEEN was terrible in a good, right-in-the-feels way but I don't think I would've been able to bear it if I'd had to wait a whole year before being able to get my sweaty little paws on THE MIRROR KING.
THE MIRROR KING starts right where THE ORPHAN QUEEN finished and I really liked how we're thrust right back into the action
that THE ORPHAN QUEEN left off. The stakes are still perilously high, danger, blood and mayhem is everywhere and Judi Meadows' writing continued to hook me to the page.
Sadly though, after a chapter or two, THE MIRROR KING stops being exciting and heart pounding and instead starts to be annoying and slow.
The plot stills. Nothing happens. And it goes on like this for what felt like forever.
THE MIRROR KING's biggest lack, and this is a lack that unfortunately drags the whole book down, is the length.
THE MIRROR KING is too long. It might've been different if more things happened, but instead all I got was chapter after chapter where the plot moved about as fast as a snail.
The character depth in here was still disappointing.
Again, like in THE ORPHAN QUEEN, I don't feel the characters
depth
. I did grow to like Wil more, but still, like in THE ORPHAN QUEEN, she felt quite flat. I also grew to dislike Tobiah more instead of less which saddened me but his character and I just did not get on. He improved a little by the end of the book but the fact that it took so long for his character to get to that point, frustrated me.
While THE MIRROR KING's ending was very different from that of THE ORPHAN QUEEN's, I still really enjoyed it.
It was bit
too
open for me and didn't completely tie things up the way I would've wanted, but it was concluded in a mostly satisfactory way that had me closing the book contented, which is how I always like to leave a book. :)
In parts electrifying and exciting, and in others exasperating and boring, THE ORPHAN QUEEN and THE MIRROR KING delight and disappoint in equal measure.
People that are not massive fantasy fans or people that like the lighter side of fantasy I can see enjoy this duology, but for the more hardcore fantasy lovers out there, they might or might not be disappointed by what they find in here.
::THANK YOU HARPER COLLINS FOR THE REVIEW COPY!::
Actual rating 3.5!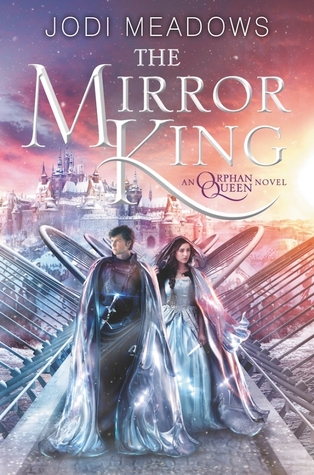 Publisher:
Harper Collins
Release Date:
April 5th 2016
Source:
From the Publisher!
Purchase:
Mighty Ape
/
Book Depository
/
Amazon
Read it in: 6 hours
Word Rating: OK
Wilhelmina has a hundred enemies.





HER FRIENDS HAVE TURNED. After her identity is revealed during the Inundation, Princess Wilhelmina is kept prisoner by the Indigo Kingdom, with the Ospreys lost somewhere in the devastated city. When the Ospreys' leader emerges at the worst possible moment, leaving Wil's biggest ally on his deathbed, she must become Black Knife to set things right.





HER MAGIC IS UNCONTROLLABLE. Wil's power is to animate, not to give true life, but in the wraithland she commanded a cloud of wraith mist to save herself, and later ordered it solid. Now there is a living boy made of wraith—destructive and deadly, and willing to do anything for her.





HER HEART IS TORN. Though she's ready for her crown, declaring herself queen means war. Caught between what she wants and what is right, Wilhelmina realizes the throne might not even matter. Everyone thought the wraith was years off, but already it's destroying Indigo Kingdom villages. If she can't protect both kingdoms, soon there won't be a land to rule.





In this stunning conclusion to THE ORPHAN QUEEN, Jodi Meadows follows Wilhelmina's breathtaking and brave journey from orphaned criminal on the streets to magic-wielding queen.
HAVE YOU READ THE ORPHAN QUEEN?? LIKEY OR NOTLIKEY?? ALSO! WHAT ARE SOME FANTASY BOOKS THAT YOU WOULD DESCRIBE AS 'LIGHT' FANTASY??