Georgian London. Summer 1763.

Anne Jaccob is coming of age, the daughter of a wealthy merchant. When she is taken advantage of by her tutor — a great friend of her father's — and is set up to marry a squeamish snob named Simeon Onions, she begins to realize just how powerless she is in Georgian society. Anne is watchful, cunning, and bored.

Her saviour appears in the form of Fub, the butcher's boy. Their romance is both a great spur and an excitement. Anne knows she is doomed to a loveless marriage to Onions and she is determined to escape with Fub and be his mistress. But will Fub ultimately be her salvation or damnation? And how far will she go to get what she wants?

Dark and sweeping, The Butcher's Hook is a richly textured debut featuring one of the most memorable characters in fiction.
To sum up THE BUTCHER'S HOOK in one word, I would call it gristly. This book is dark, cold and sullen; the entire atmosphere of it holding a murderous, foreboding tone throughout the whole novel. While this was interesting at first, after a while I got bored as I failed to feel emotion towards anything that happened in this book.
I pitied Anne the main character but didn't feel any emotion for her. Anne was so wooden and held so little emotion or feeling, partly I know because of her upbringing but also because her character was so flat that in the end I just didn't care.

Maybe if it had taken a comedic route, the whole novel would've run smoother and been a better read. It might've lightened the tone of it which I think would have helped it's flow as it was so somber it got hard to push through at times.

I don't know what I was expecting but it wasn't what I got while I read THE BUTCHER'S HOOK. It's rather disappointing because I thought this book could've been great.


::Thank you Hachette for the review copy!::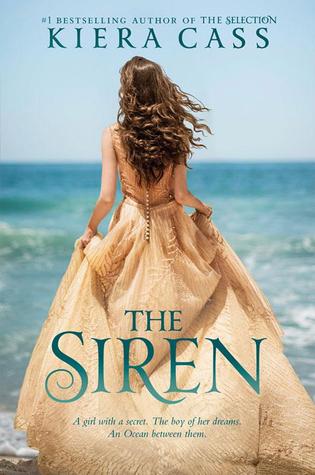 Love is a risk worth taking.

Years ago, Kahlen was rescued from drowning by the Ocean. To repay her debt, she has served as a Siren ever since, using her voice to lure countless strangers to their deaths. Though a single word from Kahlen can kill, she can't resist spending her days on land, watching ordinary people and longing for the day when she will be able to speak and laugh and live freely among them again.

Kahlen is resigned to finishing her sentence in solitude…until she meets Akinli. Handsome, caring, and kind, Akinli is everything Kahlen ever dreamed of. And though she can't talk to him, they soon forge a connection neither of them can deny…and Kahlen doesn't want to.

Falling in love with a human breaks all the Ocean's rules, and if the Ocean discovers Kahlen's feelings, she'll be forced to leave Akinli for good. But for the first time in a lifetime of following the rules, Kahlen is determined to follow her heart.
Well, HMM. Piffles I have many in this book.
Reading Cass' previous SELECTION series was like eating chocolate cake; it was light and fluffy but had that interesting and addictive dystopian storyline woven through it which made it not to sickly to read. Reading THE SIREN however was a completely different experience, and unfortunately, not one I enjoyed.
Sirens fascinate me and I was hoping this book would be a really fresh and interesting twist on the original sirens
but instead I got a really cliche cheesy romance that was so insta loveish, it made my eyes water.
If you like books with strong romance then you will probably enjoy THE SIREN.
However, if you're looking for a book with a refreshing take on Sirens and and little romance...you might not like this book so much.
I'm really sad I didn't like THE SIREN more!
It had all the possibilities to be good, but unfortunately, in my shoes it just fell flat.
::Thank you Harper Collins for the review copy!::
TELL ME! WHAT WAS YOUR LATEST DISAPPOINTING READ AND WHY??