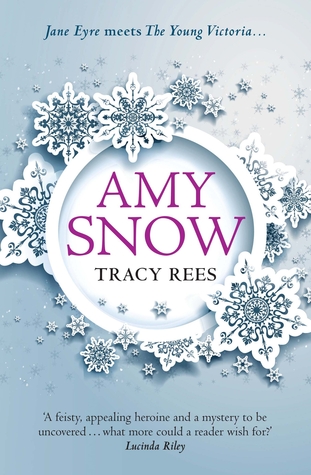 Publisher:
Hachette
Release Date:
August 9th 2016
Source:
From the Publisher!
Purchase:
Mighty Ape
/
Paperplus
Read it in:
Word Rating: TRANQUIL
Left to perish on a bank of snow as a baby, Amy has never known love, never known family.





Reluctantly given shelter at nearby Hatville Court, she is despised by the masters and servants alike.





The beautiful Hatville heiress, Aurelia Vennaway, is Amy's only advocate - she becomes the light of Amy's life, and the centre of her existence.





So when Aurelia dies young, Amy's world collapses. But Aurelia leaves Amy with one last gift.





A bundle of letters with a coded key. A treasure hunt that only Amy can unlock.

A life-changing secret awaits... if only she can reach it.
The whole time I was reading AMY SNOW I felt like I was wrapped up in a warm snuggly blanket.
This made me reluctant to finish AMY SNOW at a fast pace and so I read it slowly, but wow, was it worth taking my time and making the most of it.
The writing style was my favourite thing about AMY SNOW, something I wasn't actually expecting.
The writing style in here feels quite old fashioned even for a work of historical fiction, but the whole time I was reading, I felt like I was reading a well loved classic written a hundred or so years ago. I loved this aspect, but I know for other readers might not enjoy it so much.
There is a love triangle in AMY SNOW, but strangely, I didn't actually mind it.
I wouldn't go as far to say I loved it or that it was needed, but because (to me) it was obvious from the very beginning who had Amy's heart and who didn't, the love triangle didn't bother me.
::Thank you HACHETTE NZ for the review copy!::
Publisher:
Hachette
Release Date:
July 30th 2016
Source:
From the Publisher!
Purchase:
Mighty Ape
/
Paperplus
Read it in:
Word Rating: SLOW
Florrie Buckley is an orphan, living on the wind-blasted moors of Cornwall. It's a hard existence but Florrie is content; she runs wild in the mysterious landscape. She thinks her destiny is set in stone

But when Florrie is fourteen, she inherits a never-imagined secret. She is related to a wealthy and notorious London family, the Graces. Overnight, Florrie's life changes and she moves from country to city, from poverty to wealth.

Cut off from everyone she has ever known, Florrie struggles to learn the rules of this strange new world. And then she must try to fathom her destructive pull towards the enigmatic and troubled Turlington Grace, a man with many dark secrets of his own.
Sadly, I didn't enjoy FLORENCE GRACE as much as AMY SNOW.
FLORENCE GRACE wasn't terrible by any means but it felt a little dull and lacked the sparkle that AMY SNOW was so full off.
My biggest problems with FLORENCE GRACE was with the length and pacing of it.
Both AMY SNOW and FLORENCE GRACE are big books, but I felt AMY SNOW definitely handled it better than FLORENCE GRACE did There were multiple times where I thought stuff could've been cut out of FLORENCE GRACE and by the end I was feeling like I was having to almost slog through the book.
I also felt that if the pacing had been just a bit more fast-paced, the length of FLORENCE GRACE wouldn't have bothered me as much or at all. But because this book is quite slow -which I'm sure will not bother some people but it did bother me a bit - the lack of anything happening, especially towards the end, irritated me.
I did love Florrie's voice though.
I was worried at first that she might sound too similar to Amy in AMY SNOW, but both their voices are vastly different which I really enjoyed. I also enjoyed the cast of characters portrayed in here slightly more than the cast in AMY SNOW. I liked that you saw good parts to the bad characters and bad parts of the good ones.
::Thank you HACHETTE NZ for the review copy!::
HAVE YOU READ ANYTHING BY TRACY REES?